There is a 9 out of 10 chance that a cardiac emergency will occur in the home, and according to the American Heart Association, "70% of Americans may feel helpless to act during a cardiac emergency because they either do not know how to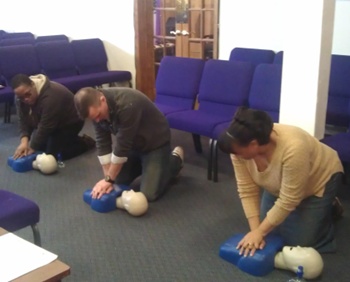 administer CPR or their training has significantly lapsed". The American Heart Association wants to increase awareness about Hands-Only CPR without taking away from the importance of learning the proper techniques. Immediate CPR, early defibrillation, and access to 911 offer the best chance of surviving a heart attack, and that is why Healthline First Aid offers CPR classes from Milwaukee to Kenosha...and everywhere in between. CPR for firefighters, paramedics, and other healthcare professionals is important, but remember that before healthcare professionals arrive, you may be the only one available to help save a life!
Get CPR certified today and protect the lives of the ones you love. Call Healthline First Aid 414-282-4532.
Best Reasons to get your Healthline First Aid Milwaukee CPR Certification:
Healthline First Aid believes in the importance of what we teach! First Aid, CPR, and AED training serves a very important purpose and we know that ANYONE, and want EVERYONE, to learn CPR. Classes are taught in a fun and relaxed environment, while holding to the standars set for instruction by the American Heart Association. Second only to the importance of learning CPR, here are a number of other reasons to become a client of Healthline First Aid:
Healthline First Aid instructors have experience in what they teach - our instructors are primarily Paramedics that can bring a real life perspective to the instruction.
We track the expiration dates of our clients to minimize lapses in certifications.
Smaller Milwaukee CPR group classes held at the Healthline First Aid office in Greenfield Wisconsin offer a more one-on-one approach.
Milwaukee AED Sales and Service
Healthline First Aid teaches CPR in Milwaukee and throughout Wisconsin. Here is a list of courses offered for first timers or those in need of renewal/recertification (not specific to location):
Register in one of our First Aid, AED, or CPR classes in Milwaukee today to become a certified life-saver and protect the lives of the ones you love. Contact Healthline First Aid at 414-282-4532.