Healthline First Aid in Fort Atkinson, WI
Local CPR Training Classes in Jefferson County
Healthline First Aid offers First Aid, AED, and CPR classes in Fort Atkinson, WI. Our instructors believe EVERYONE should know the basics of lifesaving first aid. Our courses are available for all skill levels, not just medical professionals. Sign up for an individual class or arrange a group to save money. Learn more about the training offered by Healthline First Aid of Fort Atkinson below.
If you have questions about class sizes, available instructors, or blended courses, please contact us. Healthline First Aid travels throughout Southeastern Wisconsin to offer training.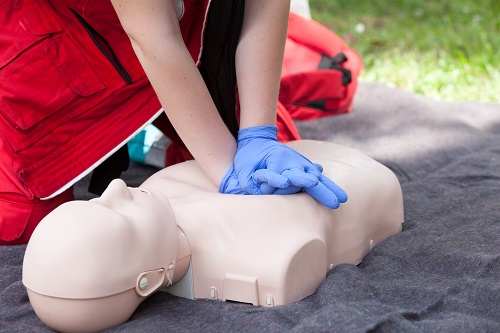 Healthcare Certification Training

Healthcare groups like EMS, CANs, doctors, nurses, and medical caregivers can all receive the First Aid certification, renewal, and recertification training they need from Healthline First Aid. From Basic Life Support (BLS) to advanced AED defibrillator training, our courses cover all the latest lifesaving information for medical professionals.

Group BLS Classes

CPR and other First Aid classes are required by many professions. To make training easier, Healthline First Aid offers onsite classes for groups of 5 or more. The groups we've works with range from EMTs needing certification to high school students wanting to learn a lifesaving skill. Other groups include:

Families and friends
Church members
School staff
High schools students
Sports teams and staff
Business coworkers
Factory safety officers

Additional First Aid Training

Looking for advanced first aid training like PALS or ACLS? Or need a Spanish-language CPR class? These courses are offered by our Milwaukee location. View our First Aid skill schedule to learn more about upcoming classes.