Almost two years ago, you took a Red Cross CPR certification class in Milwaukee,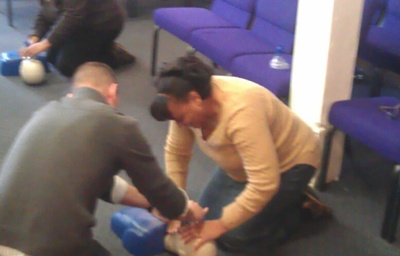 Waukesha, Racine or somewhere nearby, and it is time to renew your certification. What do most people do? They go to Google and do a search for either 'Milwaukee CPR renewal for the Professional Rescuer' or 'Milwaukee CPR recertification for the Professional Rescuer'. What's the difference? When it comes to renewing your CPR certification in Wisconsin, the most appropriate term is 'recertification'; the term 'renewal' is more appropriately used for other certifications offered, such as ACLS and PALS.
Milwaukee CPR Recertification
When a client contacts Healthline First Aid, we let them know that Healthline offers healthcare providers CPR recertifications in Milwaukee through the American Heart Association, not the Red Cross. To be more specific, providers will take the BLS for Healthcare Provider course. Clients that have a current Red Cross certification will need to take the certification course, but there are several great reasons why you should choose to work with Healthline First Aid for your certification through the American Heart Association. Here are our top four:
The mission of the American Heart Association mission best applies to the goals of a professional rescuer.
The American Heart Association did the research that the Red Cross uses.
The American Heart Association offers the most widely accepted CPR certification.
Healthline First Aid AHA CPR classes bring a practical and engaging approach to training.
If you would like more information on the difference between the Red Cross and the American Heart Association courses, read our news story CPR Certification: Red Cross vs. American Heart Association.
To schedule a Milwaukee CPR recertification class, call
414-282-4532

.