CPR Classes and other First Aid Courses
Below are the preventative and first response courses currently offered by our certified Milwaukee CPR training instructors. View the course descriptions for more information and see our CPR course availbility calendar to schedule your class. We now serve all of Wisconsin, including Milwaukee, Waukesha and Racine!
CPR Courses Now Available in Spanish: ¡Se Habla Español! We offer each of our Milwaukee CPR courses in Spanish.
COURSE OFFERINGS:
Heartsaver Milwaukee CPR, AED, and First Aid Course
This course is the most comprehensive and most popular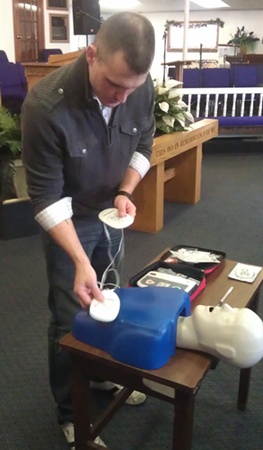 Heartsaver course taught to the general public that is not involved in healthcare. This is an excellent course for anyone with limited or no medical training and the certification meets job, regulatory, and other requirements for workplace safety. It teaches students how to respond and manage different situations until EMS can respond to the scene by covering the key changes in the new 2010 AHA guidelines and:
First aid basics – bleeding, sprains, broken bones, shock, and other first aid emergencies
Medical, injury, and environmental emergencies
Adult CPR and AED
Child/Infant CPR and AED (OPTIONAL)
Heartsaver Pediatric First Aid, AED, and CPR Training in Milwaukee
The Heartsaver Pediatric First Aid course was designed by the American Heart Association to meet the regulatory and credentialing requirements for all child care workers. More specifically, this course is intended for:
Child care workers
Teachers
Coaches
Camp counselors
Youth group leaders
Anyone else responsible for children
This course is taught in addition to the Heartsaver CPR and AED course that covers adults, children, and infants. The content for this course covers several topics. These topics include:
Adult, child, and infant first aid, CPR, and AED
Pediatric first aid basics
Pediatric medical, injury, and environmental emergencies
Pediatric first aid topics including eye injuries, fever, suspected abuse, and bites (OPTIONAL)
Asthma care training (OPTIONAL)
Milwaukee Heartsaver CPR and AED
This course is again for anyone with little to no medical training, but it excludes the first aid portion of the training. Students will cover the key changes in the new 2010 AHA guidlines and:
Adult CPR and AED
Child/Infant CPR and AED as well as child/infant choking (OPTIONAL)
Heartsaver First Aid Class in Milwaukee
This course is meant for students who need to satisfy school and/or license requirements for first aid certification only. There is no CPR or AED training taught with this course.
Heartsaver Bloodborne Pathogens
The purpose of this course is to teach the proper way to protect yourself and others from being exposed to bloodborne pathogens. Per the AHA, this course meets the Occupational Safety and Health Administration (OSHA) requirements for bloodborne pathogens training when pared with site-specific instruction.
This course is designed for anyone that may come in contact with bloodborne pathogens during the course of their work. Some of those groups include:
Protective services
Gym staff
Anyone involved in childcare
Cleaning staff - hotels, schools, etc
Business/Factory safety crews
This AHA course uses the acronym PACT, which stands for protect, act clean, and tell. Students will learn how to:
P

rotect themselves from exposure to bloodborne pathogens

Act when exposed to blood or blood-containing materials in the workplace
C

lean themselves and the area when exposed to blood or blood-containing materials

T

ell or report any exposure to blood or blood-containing materials in the workplace
Are you ready to be a hero? Protect your loved ones: contact Healthline First Aid today for Milwaukee CPR Classes. CALL 414-282-4532.
View our Course Calendar for more information about scheduled CPR Classes in Milwaukee. On site courses for groups 5 or more are available:
Counties
Cities
Milwaukee

Winnebago
New Berlin
West Bend

Dane
Rock
Milwaukee
Brookfield
Waukesha
Washington
Madison
West Allis

Brown
Sheboygan
Green Bay

Wauwatosa
Kenosha
Walworth
Racine
Beloit
Racine
Fond Du Lac

Kenosha
Franklin
Ozaukee
Dodge
Oshkosh
Oak Creek

Jefferson
Calumet
Janesville
Racine