BLS CPR certification for Healthcare Professionals
When doing a search for CPR classes in Wisconsin, many people will search for 'CPR classes Milwaukee' or 'CPR Wisconsin' in general, and many clients call Healthline First Aid and state that they are looking for Milwaukee CPR classes. All of the Healthline CPR classes are American Heart Association (AHA) CPR classes, but the AHA offers several different courses. That is why it is important that we know what type of work our CPR clients do or what they will be using their certification for. This allows us to help match them up with the proper class.
When a client calls and states they are looking for a Milwaukee BLS CPR certification for healthcare professionals, the course they want is the American Heart Association's BLS for Healthcare Provider course. The certification or recertification CPR course covers basic life support topics and is focused on a team approach. Working in the healthcare field, team dynamics are one of the keys to success. As a side note, healthcare providers that are interested in ACLS in Milwaukee must have a current BLS for Healthcare Provider certification.
Contact Healthline First Aid for more information on any CPR class in Milwaukee, or statewide CPR classes in Wisconsin.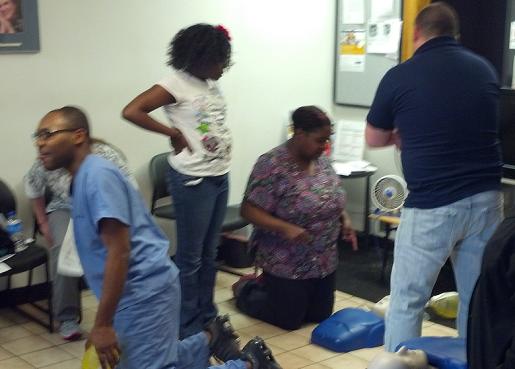 The course is available in two formats: a traditional class or a blended class. Clients that prefer a small, traditional group CPR class in Milwaukee, Racine, Waukesha or the surround areas are able to sign up for a prescheduled class at the Milwaukee Healthline office. The prescheduled groups of 5-6 students offer a more one-on-one touch are taught in a practice while watching format, where clients watch a video while working with an instructor on techniques. After completing the practical portion of the class, there is a 25 question written test that requires an 84% passing score.

The blended option of the BLS for Healthcare provider course allows clients a little more flexibility. This is because they are able to do the lecture online through the American Heart Association's training website, which takes approximately 1.5 hours. After completing the online lecture, the student prints the certificate of completion, and brings it to a scheduled skills practice/testing class. The skills test is scheduled around the client's schedule, and usually takes 30-45 minutes. NOTE: This is not an online CPR certification, it is a blended course. The blended class is the exact same certification as the one received from a traditional class. The American Heart Association's training website can be found at the American Heart Association's online training page..