Infant CPR Classes
Healthline First Aid's infant CPR training could help in a moment like this:
911: 911, what's your emergency?
Caller: My baby is not breathing!
Hopefully you have not been in this position, but as a parent or child care
provider, can you imagine what will be going through your mind at a time like this? When trained Milwaukee healthcare providers cringe at a call like this and need to quickly remember their basic and Pediatric Advanced Life Support (PALS), what will you do when seconds count…and seconds really do count especially in child and infant CPR!
As parents and child care providers in Wisconsin, you want to do the best you can until trained providers arrive, and Healthline First Aid wants to be your resource. The most important step is to take a Healthline First Aid Infant CPR course! In this Heartsaver course from the American Heart Association, you will learn CPR for infants, children, and adults (infant CPR for healthcare providers is covered in the BLS for Healthcare Providers course).
Listed below are a couple of the common Heartsaver courses taught by Healthline First Aid in Milwaukee, Waukesha, Racine and surrounding areas. If you have questions about these courses, or are not sure which course meets your needs, simply contact Healthline First Aid for guidance.
Heartsaver First Aid CPR AED

– this course teaches students First Aid, CPR, and AED usage. The core components of the course include first aid basics, medical/injury/environmental emergencies, and adult/child/infant choking and CPR/AED.

Heartsaver CPR AED

– This course covers adult/child/infant choking and CPR/AED without the basic first aid topics

Heartsaver Pediatric First Aid CPR AED
Milwaukee CPR training for infants could make the difference when seconds really do count! Call 414-282-4532 to setup your group class.
You could be the only person able to give an infant the best chance to survive with early CPR. Contact Healthline First Aid for more information about setting up a group class for infant CPR in Milwaukee or the surrounding area!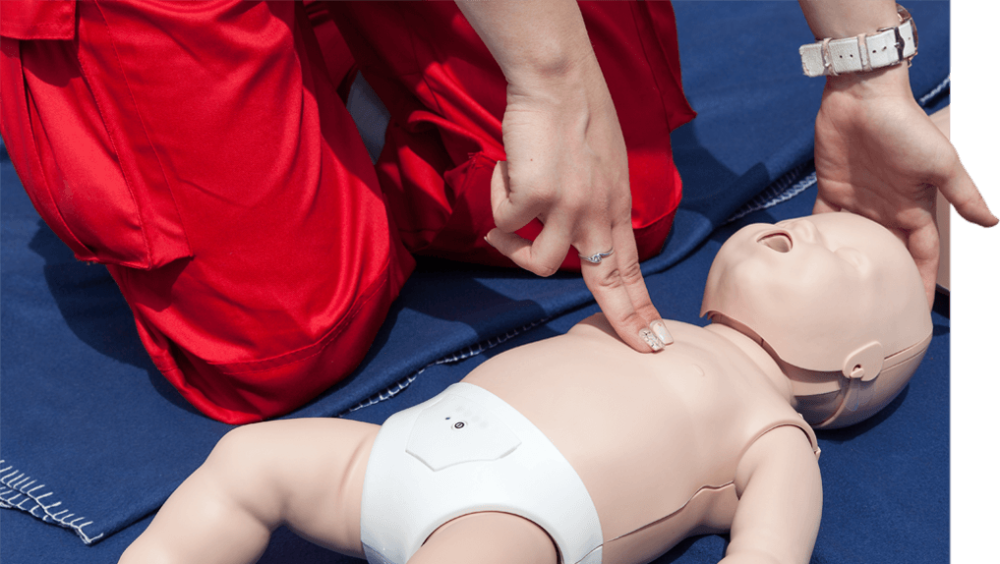 Taking a CPR course will help you learn step-by-step processes to assess an infant and perform proper CPR, which will help you remain as calm as possible in an already extremely scary situation. Not taking away from the actual need to take a CPR class and practice your skills with a Milwaukee infant CPR instructor, let's talk a little bit more about infant CPR. In regards to the Heartsaver CPR course, infants are considered age 1 or under. It is important to understand that this does not include newborn resuscitation, which is a specialty course most often taught to healthcare professionals.

When there is a need for infant CPR (child CPR also), it is most often because the infant's heart has stopped due to breathing problems. This is why it is still very important to give breaths with compressions for infants. Another important step for infants is using an AED (Automated External Defibrillator). Most people do not know that an AED is ok to use on infants. What is even more surprising is that if an AED does not have pediatric (infant/child) pads included with it, adult AED pads can be used for any age from infant up.

When there is a need to perform CPR on an infant, and there is no one else available to call 911 and get an AED, remember to:

Perform 5 cycles of CPR (compressions and breathing) before phoning for help!

CPR in general is tiring, even on infants. To make CPR easier, it is best to lay an infant on a hard, flat surface, and compress the chest 1 ½ inches with two fingers, just below the nipple line. The depth of 1 ½ inches may seem like a lot, and people often worry about hurting the infant. It is unlikely that your compressions will injure the infant, but if an injury does happen, that injury is better than death. That is why it is better to push too hard than not hard enough.

Finally, when calling 911, remember to stay on the phone with the dispatcher until you are told to hang up! You may feel that the dispatcher is not sending help because you have them on the phone, but emergency personnel are actually already en route to you.