Milwaukee CPR Class Photo Gallery | First Aid and AED Certification
Curious to see what Healthline First Aid CPR classes are like? Here you can check out photos from our CPR classes in Milwaukee and across the greater Wisconsin Area. These class photos of hands-on training are a great representation of the learning taking place during every Milwaukee CPR class. Milwaukee CPR class sizes vary from individual classes to small groups, to large groups of organizations and businesses seeking training for employees. Healthline First Aid gives you the information, training, and support you need to put your CPR Milwaukee classes to work.
Varying class sizes, expert instructors, and current information are just a few aspects of what makes Healthline First Aid the premier First Aid, CPR, and AED experts in the Milwaukee Area. Healthline First Aid has several CPR training Milwaukee locations. We are happy to travel within the greater Wisconsin area to provide you or your organization with First Aid, AED, and CPR classes.
Contact Milwaukee CPR training instructors from Healthline First Aid at 414-282-4532 to make arrangements to become a certified life saver today.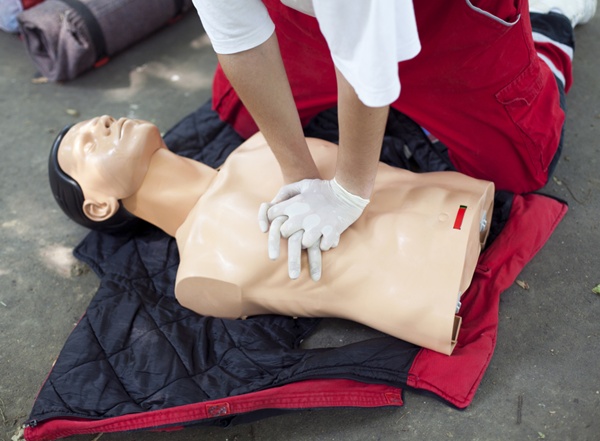 Oak Creek BLS Classes and CPR Training
CPR is an important skill. The importance of CPR can be overlooked, but this invaluable skill saves lives! CPR training Oak Creek needs is found in Healthline First Aid. The majority of our expert instructors are Paramedics, and have real field experience with CPR and emergency training. Small class sizes mean your group will receive all the one-on-one attention necessary to master CPR skills. The professional, personal service given by our instructors will make all the difference! Class environments are fun and relaxed, while bringing students up to par with American Heart Association standards. Our Oak Creek CPR certification instructors travel to your group, meaning a great experience with CPR certification has never been so easy. We offer CPR classes for the general public and healthcare providers alike!
Healthline First Aid also offers BLS for healthcare professionals. When CPR recertification is needed, our BLS courses are the solution. These classes focus on CPR training, AED instruction, rescue breathing, choking relief, and the difference between rescue techniques. Oak Creek BLS classes offer an introduction to compressions and ventilation with an advanced airway in place. These skills are tested in practical application, and a 25 question test is given at the end of the course.
We also offer the basics of first aid to the general public and entry level healthcare providers. These classes focus on preventative measures and first responder skills. The skills offered are first aid basics, emergency responses like CPR and AED, and optional infant CPR and AED skills. Oak Creek CPR classes from Healthline First Aid teach students how to respond to emergencies and manage a situation until EMS responders arrive. This CPR course also ends in a 25 question test, and all of our Oak Creek CPR classes take roughly four hours to complete.
Oak Creek Hospitals
Oak Creek CPR Required Facilities
Woodcreek
8900 South Woodcreek Drive
Oak Creek
WI USA
53154

414.571.0416
Oak Crest
10507 South Chicago Avenue
Oak Creek
WI USA
53154

414.764.3303
Call Healthline First Aid today to schedule your CPR course!
Back