Milwaukee CPR Class Photo Gallery | First Aid and AED Certification
Curious to see what Healthline First Aid CPR classes are like? Here you can check out photos from our CPR classes in Milwaukee and across the greater Wisconsin Area. These class photos of hands-on training are a great representation of the learning taking place during every Milwaukee CPR class. Milwaukee CPR class sizes vary from individual classes to small groups, to large groups of organizations and businesses seeking training for employees. Healthline First Aid gives you the information, training, and support you need to put your CPR Milwaukee classes to work.
Varying class sizes, expert instructors, and current information are just a few aspects of what makes Healthline First Aid the premier First Aid, CPR, and AED experts in the Milwaukee Area. Healthline First Aid has several CPR training Milwaukee locations. We are happy to travel within the greater Wisconsin area to provide you or your organization with First Aid, AED, and CPR classes.
Contact Milwaukee CPR training instructors from Healthline First Aid at 414-282-4532 to make arrangements to become a certified life saver today.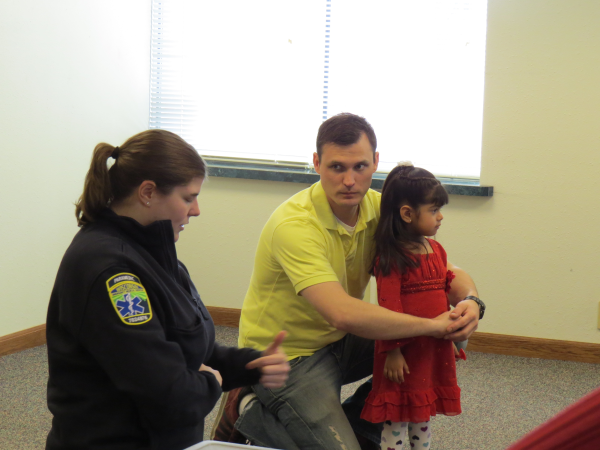 This CPR class was held in Hartford, Wisconsin. The certified CPR instructor is an EMT in the Hartford, Wisconsin area. This class was for parents want to learn how to perform CPR when a child is choking or not breathing. They also learned PALS (Pediatric Advanced Life Support), which is designed to administer first aid to infants and children.
Immediate CPR, early defibrillation and the intervention of 911 medical response teams offer the best chance of surviving a heart attack. But in an emergency, you cannot count on hospital or fire department personnel to get there in time. In our opinion, everyone needs to have at least a basic understanding of CPR—especially those who work with young children and parents of young children.
As an American Heart Association Authorized provider of CPR training, Healthline First Aid provides the instruction you need to be prepared for emergencies at home or on the job. Our PALS course is intended for healthcare professionals who work with children and infants and includes respiratory emergencies, rhythm disturbances and electrical therapy, vascular access, as well as discussions on and simulations of cardiac, respiratory and shock emergencies.
Hartford Hospitals
Back