Milwaukee CPR Class Photo Gallery | First Aid and AED Certification
Curious to see what Healthline First Aid CPR classes are like? Here you can check out photos from our CPR classes in Milwaukee and across the greater Wisconsin Area. These class photos of hands-on training are a great representation of the learning taking place during every Milwaukee CPR class. Milwaukee CPR class sizes vary from individual classes to small groups, to large groups of organizations and businesses seeking training for employees. Healthline First Aid gives you the information, training, and support you need to put your CPR Milwaukee classes to work.
Varying class sizes, expert instructors, and current information are just a few aspects of what makes Healthline First Aid the premier First Aid, CPR, and AED experts in the Milwaukee Area. Healthline First Aid has several CPR training Milwaukee locations. We are happy to travel within the greater Wisconsin area to provide you or your organization with First Aid, AED, and CPR classes.
Contact Milwaukee CPR training instructors from Healthline First Aid at 414-282-4532 to make arrangements to become a certified life saver today.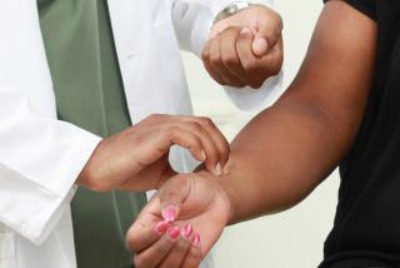 Proper certification in CPR is required to work in hospitals and other medical facilities. Be prepared with quality CPR classes and training offered in the Franklin, WI area. Proper steps taken before medical responders arrive can be the difference between life and death.
Franklin CPR and BLS Certification Courses
Basic Life Support (BLS) classes are intended for healthcare professionals and medical volunteers who need BLS CPR certification for upcoming employment/volunteering or renewal. You'll become CPR certified for infants, children and adults. Proper AED and CPR training will allow medical professionals to identify and quickly respond to life threatening emergencies. In Wisconsin, a BLS certification must be renewed every two years to maintain validity.
Franklin CBRF Training
Community-Based Residential Facilities (CBRF) training classes follow the requirements set by DHS 83. CBRF training from Healthline First Aid covers:
Medication Administration
Fire Safety
First Aid and Choking
Standard Precautions
Our students get hands on training from licensed professionals, with years of real world experience in the medical field.
Franklin Locations:
CPR and first aid training certification isn't just for high school students. Many medical professionals require various emergency response recertification every 2 years. These may include CBRF, BLS for healthcare providers, AED, and more
Wheaton Franciscan Healthcare Franklin
Classes and Courses
10101 S. 27th Street
,
Franklin
, WI USA
53132
Franklin High School
Classes and Courses
8222 S. 51st Street
,
Franklin
, WI USA
53132
Back