Milwaukee CPR Class Photo Gallery | First Aid and AED Certification
Curious to see what Healthline First Aid CPR classes are like? Here you can check out photos from our CPR classes in Milwaukee and across the greater Wisconsin Area. These class photos of hands-on training are a great representation of the learning taking place during every Milwaukee CPR class. Milwaukee CPR class sizes vary from individual classes to small groups, to large groups of organizations and businesses seeking training for employees. Healthline First Aid gives you the information, training, and support you need to put your CPR Milwaukee classes to work.
Varying class sizes, expert instructors, and current information are just a few aspects of what makes Healthline First Aid the premier First Aid, CPR, and AED experts in the Milwaukee Area. Healthline First Aid has several CPR training Milwaukee locations. We are happy to travel within the greater Wisconsin area to provide you or your organization with First Aid, AED, and CPR classes.
Contact Milwaukee CPR training instructors from Healthline First Aid at 414-282-4532 to make arrangements to become a certified life saver today.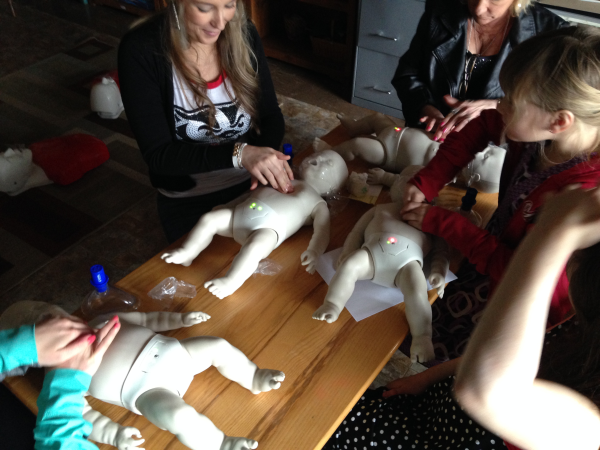 Whitewater Child and Infant CPR Classes
This daycare group CPR training in Whitewater let a couple of the older children watch as the staff trained. Our instructor had an extra CPR manikin available, so the kids joined in on the fun. It should be no surprise, the kids really did a great job while the group learned adult, child, and infant CPR.
CPR is an important skill in today's world. Sometimes it is overlooked, but this necessary skill is an important part of a safe workplace and home environment. Healthline First Aid offers you excellent Whitewater CPR courses, for the general public and healthcare professionals alike. Our instructors have experience in this field – many of them are Paramedics in addition to teaching CPR certification classes. Small class sizes, one-on-one attention, and a fun, relaxed class environment all contribute to the outstanding customer testimonials we receive. Our professional, personal CPR instructors bring classes up to par with American Heart Association standards. We travel to your group, bringing your excellent CPR certification and renewal.
Our comprehensive CPR courses are great for the public and healthcare professionals alike. Our basic Whitewater CPR class focuses on preventative measures and the necessary skills for any first responder. These classes cover first aid basics, emergency response skills, and CPR and AED training. We offer optional CPR and AED training for infants and children. These classes are great for the general public, giving them the necessary skills to respond to an emergency and manage the situation until EMS responders arrive.
We offer BLS courses for healthcare professionals too – these courses are excellent when you are seeking Whitewater CPR recertification. They offer AED and CPR certification, rescue breathing, choking relief, the difference between rescue techniques, and an intro to compressions and ventilation with an advanced airway in place. All of our CPR certification classes end with a 25 question test, and classes take about four hours to complete (this varies slightly depending on class sizes).
Whitewater Hospitals
Contact us today to schedule your Whitewater CPR class!
Back