Milwaukee CPR Class Photo Gallery | First Aid and AED Certification
Curious to see what Healthline First Aid CPR classes are like? Here you can check out photos from our CPR classes in Milwaukee and across the greater Wisconsin Area. These class photos of hands-on training are a great representation of the learning taking place during every Milwaukee CPR class. Milwaukee CPR class sizes vary from individual classes to small groups, to large groups of organizations and businesses seeking training for employees. Healthline First Aid gives you the information, training, and support you need to put your CPR Milwaukee classes to work.
Varying class sizes, expert instructors, and current information are just a few aspects of what makes Healthline First Aid the premier First Aid, CPR, and AED experts in the Milwaukee Area. Healthline First Aid has several CPR training Milwaukee locations. We are happy to travel within the greater Wisconsin area to provide you or your organization with First Aid, AED, and CPR classes.
Contact Milwaukee CPR training instructors from Healthline First Aid at 414-282-4532 to make arrangements to become a certified life saver today.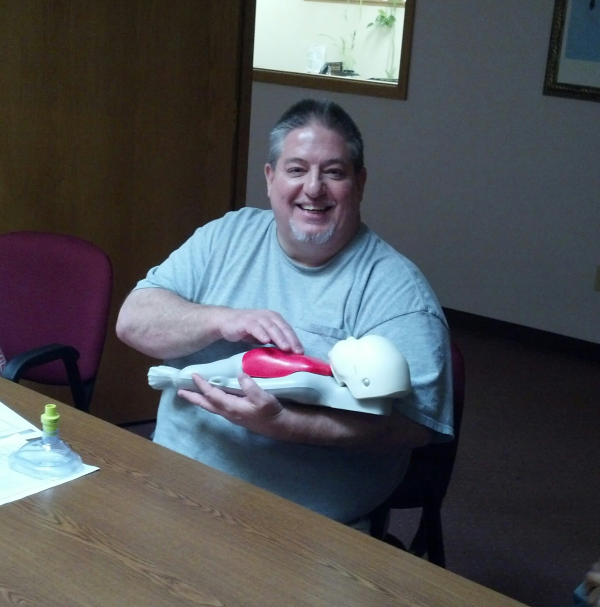 If you're a teacher, coach or child care worker in the Waukesha area, you know there are always little accidents that happen. Usually a Band-Aid and an aspirin are all that's needed. But what if something serious were to happen? Would you know how to respond? You would if you've taken our Heartsaver Pediatric First Aid class and CPR training.
Developed by the American Heart Association to meet the regulatory and credentialing requirements for a broad range of child care workers, the Heartsaver Pediatric First Aid course is designed for those with little or no medical training. The class expands upon the Heartsaver CPR and AED courses (which cover adults, children, and infants) with topics that include:
Child and infant first aid, CPR, and AED
Pediatric first aid basics (bleeding, sprains, broken bones, shock, and other first aid emergencies)
Pediatric medical, injury, and environmental emergencies
Pediatric first aid topics including eye injuries, fever, suspected abuse, and bites (OPTIONAL)
Asthma care training (OPTIONAL)
AED Sales and Training in Waukesha, Wisconsin
Two of the best ways to increase the odds of a child surviving cardiac arrest are early CPR and early defibrillation with an Automated External Defibrillator (AED). Our Waukesha CPR training and certification classes will help ensure you and your associates know CPR. Having AEDs on-site and knowing how to properly use them will significantly enhance your emergency preparedness.
In fact, the American Heart Association has found that early defibrillation through the use of an AED, along with CPR, is the only effective treatment for sudden cardiac arrest. Statistics show 74% of sudden cardiac arrest victims who are defibrillated with an AED within the first 3 to 5 minutes can be saved. Without early defibrillation, however, the survival rate is a mere 5% survival rate. Waiting for emergency medical personnel to arrive simply isn't an option.
Through our partnership with AED distributor Cardio-Start, Healthline offers the Milwaukee area's best AED sales and service. Whether you are a small daycare provider interested in having one AED in the event of an emergency or a large university requiring AEDs in multiple locations, we will help you determine the right quantity and best locations for them at your site. Most importantly, we will provide you and your staff the training you need to save lives.
AED Defibrillators Sold and Supported by Healthline in Waukesha, Wisconsin:
HeartSineSamaritan PAD 300P Defibrillator
Medtronic Lifepak CRplus Defibrillator
Philips HeartStart OnSite Defibrillator
Philips HeartStart FR3 Defibrillator for Professional Responders
For more information about AED sales and service in Waukesha, Wisconsin, call 414-282-4532.
Back