Milwaukee CPR Class Photo Gallery | First Aid and AED Certification
Curious to see what Healthline First Aid CPR classes are like? Here you can check out photos from our CPR classes in Milwaukee and across the greater Wisconsin Area. These class photos of hands-on training are a great representation of the learning taking place during every Milwaukee CPR class. Milwaukee CPR class sizes vary from individual classes to small groups, to large groups of organizations and businesses seeking training for employees. Healthline First Aid gives you the information, training, and support you need to put your CPR Milwaukee classes to work.
Varying class sizes, expert instructors, and current information are just a few aspects of what makes Healthline First Aid the premier First Aid, CPR, and AED experts in the Milwaukee Area. Healthline First Aid has several CPR training Milwaukee locations. We are happy to travel within the greater Wisconsin area to provide you or your organization with First Aid, AED, and CPR classes.
Contact Milwaukee CPR training instructors from Healthline First Aid at 414-282-4532 to make arrangements to become a certified life saver today.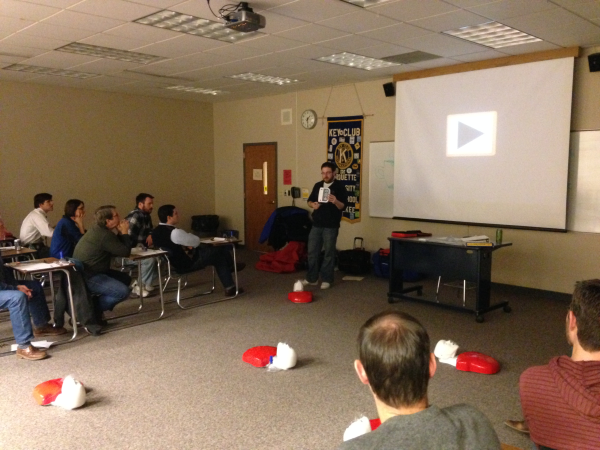 At this Heartsaver course conducted in Kenosha, the CPR instructor is teaching a class of BLS certification students how to safely use a defibrillator. The Heartsaver course is designed for non-healthcare professionals who have limited medical training or none at all. It is designed to teach how to respond to an emergency before arrive at the scene.
CPR, BLS for Healthcare Provider and other First Response Rescuer Courses
As one of our more popular offerings, we have four versions of the Heartsaver preventative and first response courses in order to address the specific needs and interests of our students:
Heartsaver CPR, AED and First Aid
Heartsaver Pediatric First Aid
Heartsaver CPR and AED
Heartsaver First Aid
Heartsaver Bloodborne Pathogens
These classes cover a broad range of medical emergencies and are ideal for anyone from office employees to teachers, child care workers, camp leaders, and even parents who just want to know how to be prepared in the event of an emergency. Those who complete this course receive a Heartsaver certification that meets all job, regulatory, and other requirements for workplace safety.
Kenosha High School CPR Classes:
CPR, AED and other first response courses are for more than just area high school students. Healthline FirstAid works to train medical professionals, even instructors in various American Heart Association life-saving certifications.
Indian Trail High School
Classes and Courses
6800 60th St
,
Kenosha
, WI USA
53144
Bradford High School
Classes and Courses
3700 Washington Rd
,
Kenosha
, WI USA
53144
Back