Milwaukee CPR Class Photo Gallery | First Aid and AED Certification
Curious to see what Healthline First Aid CPR classes are like? Here you can check out photos from our CPR classes in Milwaukee and across the greater Wisconsin Area. These class photos of hands-on training are a great representation of the learning taking place during every Milwaukee CPR class. Milwaukee CPR class sizes vary from individual classes to small groups, to large groups of organizations and businesses seeking training for employees. Healthline First Aid gives you the information, training, and support you need to put your CPR Milwaukee classes to work.
Varying class sizes, expert instructors, and current information are just a few aspects of what makes Healthline First Aid the premier First Aid, CPR, and AED experts in the Milwaukee Area. Healthline First Aid has several CPR training Milwaukee locations. We are happy to travel within the greater Wisconsin area to provide you or your organization with First Aid, AED, and CPR classes.
Contact Milwaukee CPR training instructors from Healthline First Aid at 414-282-4532 to make arrangements to become a certified life saver today.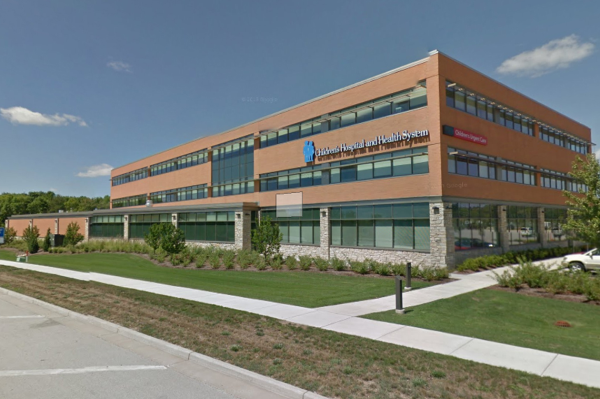 First Aid Training Available at New Berlin's Children Hospital
Healthline First Aid Offers Certification to Health Care Professionals
Healthline provides extensive first aid training for medical professionals and volunteers. All healthcare professionals must have up to date medical certifications to be able to work in a medical facility. Whether you're a doctor, nurse, PA or any other member of the medical staff, your various CPR training certifications must be maintained and renewed. Children's Hospital in New Berlin is a specialty clinic providing care for kids of all ages. Every member of the Children's Hospital team, from the doctors to volunteers, are trained and have the proper certifications to give the best care to every child who comes in.
Healthline First Aid offers a wide range of certification courses to make sure every team member's certification stays valid. Whether you need recertification or it's your first time receiving training, Healthline First Aid will travel to your location and offer a relaxed, fun environment with hands on experience. We also provide comprehensive CPR, AED and Heartsaver training classes all across Wisconsin.
Pediatric Advanced Life Support (PALS) Training
Healthline First Aid instructors are certified to instruct medical workers with the proper PALS training in case of any emergency. The New Berlin PALS class includes:
BLS skills such as 1 and 2-rescuer child/infant CPR and AED
Respiratory emergencies
Rhythm disturbances and electrical therapy
Vascular access
Our experienced instructors use simulations of pediatric emergencies, utilizing hands on experience. Healthline First Aid will travel throughout Wisconsin and northern Illinois to teach PALS courses.
New Berlin Hospitals
4805 South Moorland Road
New Berlin
WI USA
53151

262.798.7200
New Berlin CPR Required Facilities
Back