Milwaukee CPR Class Photo Gallery | First Aid and AED Certification
Curious to see what Healthline First Aid CPR classes are like? Here you can check out photos from our CPR classes in Milwaukee and across the greater Wisconsin Area. These class photos of hands-on training are a great representation of the learning taking place during every Milwaukee CPR class. Milwaukee CPR class sizes vary from individual classes to small groups, to large groups of organizations and businesses seeking training for employees. Healthline First Aid gives you the information, training, and support you need to put your CPR Milwaukee classes to work.
Varying class sizes, expert instructors, and current information are just a few aspects of what makes Healthline First Aid the premier First Aid, CPR, and AED experts in the Milwaukee Area. Healthline First Aid has several CPR training Milwaukee locations. We are happy to travel within the greater Wisconsin area to provide you or your organization with First Aid, AED, and CPR classes.
Contact Milwaukee CPR training instructors from Healthline First Aid at 414-282-4532 to make arrangements to become a certified life saver today.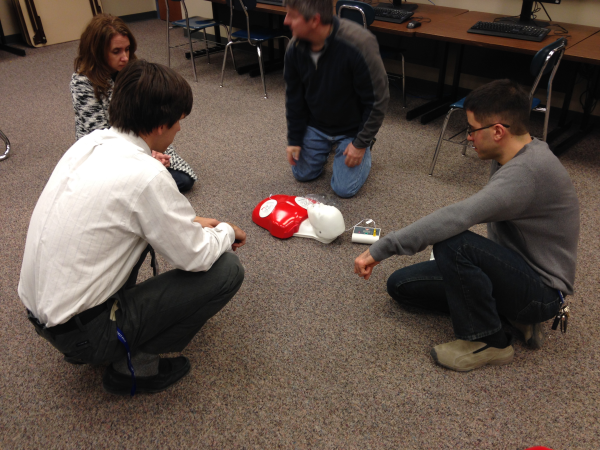 Every year, heart disease causes about 25% of all deaths in America. While spreading awareness of heart disease is great, knowing how to respond in an emergency is far more important. Preparing yourself, your employees or your students is the best way to be prepared in the event someone suffers a heart attack at your business, school, or even home Groups and organizations of all sizes will benefit from learning the first responder techniques we teach.
Certification and Training
At this Racine CPR certification course, students learned basic CPR techniques and how to use a lifesaving defibrillator. A defibrillator is used in cases of emergency when life-threatening cardiac dysrhythmias occur. The defibrillator checks the heart rhythm and sends electrical shocks if needed restore the heart's own natural rhythm. Our certified Racine CPR instructor taught this class to students receiving their BLS certification.
Classes and Courses for Difibrillators
In recent years, emergency defibrillators have increasingly become standard equipment in airports, convention centers, office buildings and other locations throughout the country. Unlike fire extinguishers, however, using a defibrillator requires some basic training. As part of our CPR course, we teach how to safely use a defibrillator to save someone suffering a heart attack.
High School CPR Classes:
CPR isn't just for students of Case, Racine Park, or Horlick High School. Many first responder courses are taught to established medical professionals.
Park High School
Classes and Courses
1901 12th St
,
Racine
, WI USA
53403
Horlick High School
Classes and Courses
2119 Rapids Dr
,
Racine
, WI USA
53404
Case High School
Classes and Courses
7345 Washington Ave
,
Racine
, WI USA
53406
Back