Milwaukee CPR Class Photo Gallery | First Aid and AED Certification
Curious to see what Healthline First Aid CPR classes are like? Here you can check out photos from our CPR classes in Milwaukee and across the greater Wisconsin Area. These class photos of hands-on training are a great representation of the learning taking place during every Milwaukee CPR class. Milwaukee CPR class sizes vary from individual classes to small groups, to large groups of organizations and businesses seeking training for employees. Healthline First Aid gives you the information, training, and support you need to put your CPR Milwaukee classes to work.
Varying class sizes, expert instructors, and current information are just a few aspects of what makes Healthline First Aid the premier First Aid, CPR, and AED experts in the Milwaukee Area. Healthline First Aid has several CPR training Milwaukee locations. We are happy to travel within the greater Wisconsin area to provide you or your organization with First Aid, AED, and CPR classes.
Contact Milwaukee CPR training instructors from Healthline First Aid at 414-282-4532 to make arrangements to become a certified life saver today.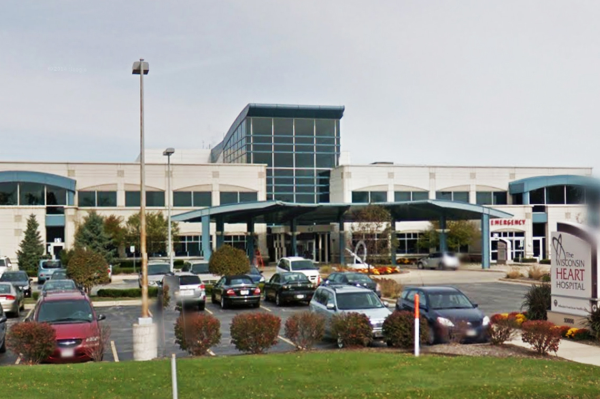 Wisconsin Heart Hospital Provides AED and First Aid Courses in Wauwatosa
Healthline First Aid Offers Broad Range of Medical Certification in Wauwatosa
Healthline First Aid makes it easy for hospitals to ensure all worker and volunteer medical certificates are up to date. All the certifications offered will qualify medical personnel to work in a healthcare facility. At The Wisconsin Heart Hospital in Wauwatosa, Wisconsin, their patient ratings are among the best when it comes to inpatient and emergency department services. Their superior care has earned them National awards when it comes to patient satisfaction. Along with the great patient reviews, you'll find the region's top physicians and nurses.
Healthline First Aid has a wide range of courses available to make sure all proper certifications are met by healthcare workers and volunteers, including BLS, ACLS, CPR and Wauwatosa AED courses. The hands on courses taught by our medical professionals are in a fun, relaxed environment. We give students the best information and practices to know what to do if an emergency arises.
The Wisconsin Heart Hospital has Pediatric Heartsaver Courses
Healthline First Aid offers a variety of Heartsaver courses for anyone who works with kids, from child care workers and teachers to coaches and youth camp leaders. This course is taught in addition to the Heartsaver CPR and AED class. It covers the following topics:
Pediatric first aid basics
Pediatric medical and environmental emergencies
Toddler and infant first aid, CPR, and AED
Pediatric first aid topics including eye injuries, fever, suspected abuse, and bites (OPTIONAL)
Asthma care training (OPTIONAL)
Graduation with certification from Healthline First Aid's training courses ensure you will be confident in your ability to save lives.
Wauwatosa Locations:
CPR training certifications aren't just for high school students. Many medical professionals require various emergency response recertification every 2 years. These may include BLS for healthcare providers, AED, and more.
Wisconsin Heart Hospital
Classes and Courses
10000 W Bluemound Rd
,
Wauwatosa
, WI USA
53226
Wauwatosa East High School
Classes and Courses
7500 Milwaukee Ave
,
Wauwatosa
, WI USA
53213
Wisconsin Heart Hospital
10000 W Bluemound Rd
Wauwatosa
WI
53226
Back