Milwaukee CPR Class Photo Gallery | First Aid and AED Certification
Curious to see what Healthline First Aid CPR classes are like? Here you can check out photos from our CPR classes in Milwaukee and across the greater Wisconsin Area. These class photos of hands-on training are a great representation of the learning taking place during every Milwaukee CPR class. Milwaukee CPR class sizes vary from individual classes to small groups, to large groups of organizations and businesses seeking training for employees. Healthline First Aid gives you the information, training, and support you need to put your CPR Milwaukee classes to work.
Varying class sizes, expert instructors, and current information are just a few aspects of what makes Healthline First Aid the premier First Aid, CPR, and AED experts in the Milwaukee Area. Healthline First Aid has several CPR training Milwaukee locations. We are happy to travel within the greater Wisconsin area to provide you or your organization with First Aid, AED, and CPR classes.
Contact Milwaukee CPR training instructors from Healthline First Aid at 414-282-4532 to make arrangements to become a certified life saver today.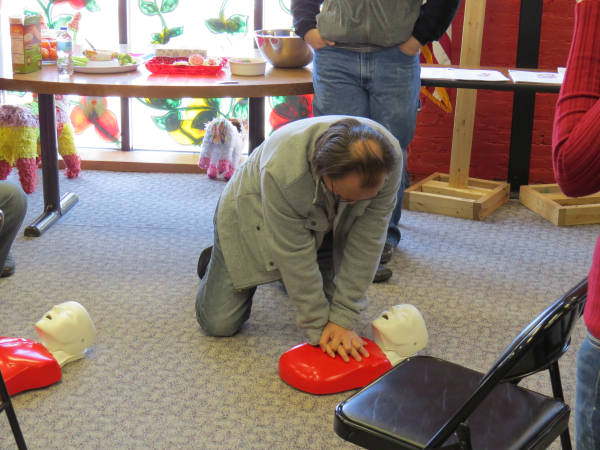 West Bend CPR Classes and AED Certification
This CPR Certification class in West Bend produced another group of emergency-ready citizens. As an American Heart Association authorized provider of CPR and ECC Courses, we are proud to do our part towards making a difference in communities throughout Wisconsin.
Our Large Group CPR classes are ideal for businesses, universities and healthcare clinics that seek training. The training is engaging and hands-on—designed to prepare you to respond quickly and successfully to any cardiopulmonary emergency. If you are a parent or child care provider, you will want to attend our Infant CPR training. In this Heartsaver course from the American Heart Association, you will learn CPR and first-aid basics for infants, children, and adults.
For those interested in working as a firefighter or serving their community as a volunteer, Healthline offers both group CPR training and personal firefighter guidance. We also offer CPR Recertification for professional rescuers. When it comes to renewing your CPR certification, the most appropriate term is 'recertification', as the term 'renewal' is more appropriately used for other certifications, such as ACLS and PALS.
If you are a healthcare professional interested in BLS CPR Certification, Healthline offers two formats for instruction: a traditional class or a blended class. The traditional class has about 5-6 students and is taught in a more hands-on format, with students watching a video while working with an instructor on techniques. After completing the practical portion of the class, there is a written test that requires a passing score.
The blended class allows a little more flexibility because students complete the lecture part of the class online (approximately 1.5 hrs.) through the American Heart Association's training website. After completing the online lecture, the student prints the certificate of completion and brings it to a scheduled skills practice/testing class. The skills test usually takes 30-45 minutes.
NOTE: This is not an online CPR certification--it is a blended course and is the same certification as the one received from a traditional class.
West Bend Hospitals
West Bend CPR Training
Emerald Way
831 East Washington Street
West Bend
WI USA
53095

262.335.1992
Contact us today for your West Bend CPR certification!
Back