Milwaukee CPR Class Photo Gallery | First Aid and AED Certification
Curious to see what Healthline First Aid CPR classes are like? Here you can check out photos from our CPR classes in Milwaukee and across the greater Wisconsin Area. These class photos of hands-on training are a great representation of the learning taking place during every Milwaukee CPR class. Milwaukee CPR class sizes vary from individual classes to small groups, to large groups of organizations and businesses seeking training for employees. Healthline First Aid gives you the information, training, and support you need to put your CPR Milwaukee classes to work.
Varying class sizes, expert instructors, and current information are just a few aspects of what makes Healthline First Aid the premier First Aid, CPR, and AED experts in the Milwaukee Area. Healthline First Aid has several CPR training Milwaukee locations. We are happy to travel within the greater Wisconsin area to provide you or your organization with First Aid, AED, and CPR classes.
Contact Milwaukee CPR training instructors from Healthline First Aid at 414-282-4532 to make arrangements to become a certified life saver today.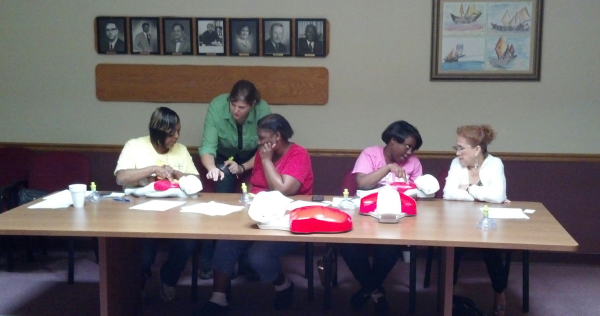 Parents often want to do what is for their new infants. New parents may have even heard how important it is to safety proof where they live, by getting down to the ground and seeing things from an infant's point of view. At the top of a parent's list, or anyone that cares for infants, should be infant CPR training in Wisconsin.
Healthline First Aid offers several different American Heart Association courses and class options for our clients. Two of the most common are:
AHA Heartsaver CPR AED: This course includes adult, child, and infant CPR. Healthline offers this CPR course in Milwaukee as prescheduled classes at our office, or in an onsite group training format.
AHA Heartsaver Pediatric First Aid CPR AED: This course covers pediatric specific first aid, as well as child and infant CPR; adult CPR and asthma training is optional. This course is only currently offered to preset groups, onsite or at the Milwaukee office.
*Onsite group trainings are preset groups where we travel to your location. Just to list a few, Healthline First Aid teaches infant CPR classes in Milwaukee, Madison, Fond du Lac, Appleton, or anywhere in Southeastern Wisconsin.
If the time ever comes that you walk into your infant's room, and your baby is choking or not breathing, will you know what to do? Do you know the differences between treating an infant that is choking and an infant that is already not breathing, and how to perform them properly? Healthline First Aid is a leading provider for Wisconsin Infant CPR classes, and it is our mission to make sure you can handle situations like these.
Back