Milwaukee CPR Class Photo Gallery | First Aid and AED Certification
Curious to see what Healthline First Aid CPR classes are like? Here you can check out photos from our CPR classes in Milwaukee and across the greater Wisconsin Area. These class photos of hands-on training are a great representation of the learning taking place during every Milwaukee CPR class. Milwaukee CPR class sizes vary from individual classes to small groups, to large groups of organizations and businesses seeking training for employees. Healthline First Aid gives you the information, training, and support you need to put your CPR Milwaukee classes to work.
Varying class sizes, expert instructors, and current information are just a few aspects of what makes Healthline First Aid the premier First Aid, CPR, and AED experts in the Milwaukee Area. Healthline First Aid has several CPR training Milwaukee locations. We are happy to travel within the greater Wisconsin area to provide you or your organization with First Aid, AED, and CPR classes.
Contact Milwaukee CPR training instructors from Healthline First Aid at 414-282-4532 to make arrangements to become a certified life saver today.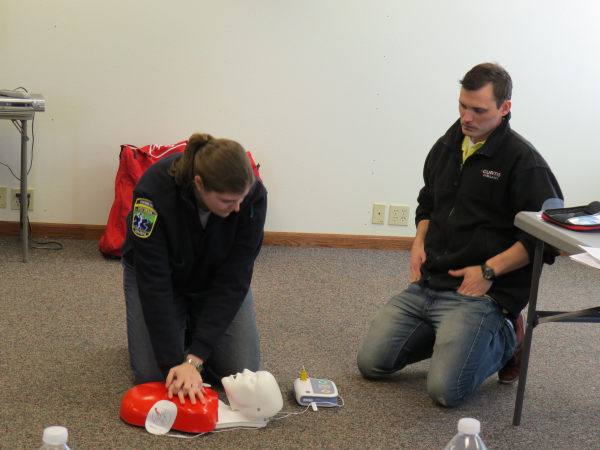 At this very moment, someone in the Madison area is having a heart attack. If it were happening at your business, your home or your school, would you know how to respond? Would you be able to save a life or would you stand by helplessly waiting for paramedics to arrive?
About 25% of all deaths in America are caused by heart disease, but the average person has only a textbook understanding of what to do in an emergency. Our Madison CPR classes will prepare you, your employees, or your students with the hands-on training necessary for being able to respond quickly and effectively to a cardiopulmonary emergency.
American Heart Association Certified CPR Training
Healthline First Aid offers AHA Certified CPR training for individual, groups and organizations throughout the Madison area. Our CPR classes are designed to be engaging, interesting and even fun, while adhering to the standards of the American Heart Association. The AHA certification is the most widely accepted CPR certification, which makes it the preferred certification for anyone working as a professional rescuer or caregiver. Getting certified through one of our classes will ensure you are prepared to use best practices first responder techniques to save a life. Learn more about the American Heart Association's mission.
Training and Recertification for Professional Rescuers and Caregivers
Emergency services personnel and healthcare providers throughout Madison are required to attain certification in BLS (Basic Life Support), ACLS (Advanced Cardiac Life Support) and PALS (Pediatric Advanced Life Support). Healthline First Aid offers both certification classes and recertification classes to ensure you are in full compliance with professional licensing requirements and up to speed on all aspects of these life-saving procedures.
Basic Life Support for HealthCare Professionals in Madison
Our Madison Basic Life Support (BLS) classes are designed for healthcare professionals who need BLS CPR certification for employment in hospitals or out-of-hospital settings. This training will prepare you to identify and respond to life threatening emergencies using AED, CPR, and choking relief techniques.
The course includes both skills practice and testing. A 25-question multiple choice test is administered at completion of the training and requires a minimum score of 84% to pass. Although class duration varies depending on the size of the class, the approximate time to complete this course is 4 hours. These classes provide American Heart Association BLS certification.
Techniques covered in this class:
1 and 2-rescuer CPR/AED
Differences between rescue techniques
Rescue breathing and bag-bask techniques
Relieving choking
Basic introduction to compressions and ventilations with an advanced airway in place
BLS Recertification in Madison, Wisconsin
BLS certification in Wisconsin is valid for two years. After two years, you are required to be recertified. This is accomplished by completing the BLS training class described above.
Our Madison CPR training instructors can provide you with information on which medical careers require continued BLS recertification as well as which types of CPR training will provide the most benefit to your career as a healthcare professional.
Pediatric Advanced Life Support (PALS) Training in Madison, Wisconsin
Our PALS (Pediatric Advanced Life Support) classes are designed for Madison healthcare professionals such as doctors, nurses and EMS personnel. This course is similar to our ACLS (Advanced Cardiac Life Support) class, but with a focus on infants and children. The course covers first aid and CPR training with simulations of pediatric emergencies and also covers pharmacology. You will learn to respond to emergencies using assessment, BLS (Basic Life Support) training and emergency medicine.
Madison PALS Classes Include:
Team dynamics
BLS skills such as 1 and 2-rescuer child/infant CPR and AED
Respiratory emergencies
Rhythm disturbances and electrical therapy
Vascular access
Discussions and simulations on cardiac, respiratory, and shock
PALS Recertification in Madison, Wisconsin
PALS certification is valid for two years. For details on which first response or CPR classes for healthcare providers are required for your specific profession or career goals, contact the CPR training instructors at Healthline First Aid.
ACLS Certification Classes in Madison, Wisconsin
Our Advanced Cardiac Life Support (ACLS) courses are intended for healthcare professionals who regularly deal with cardiovascular arrest and emergencies. Madison doctors, nurses, and EMS personnel (primarily paramedics) seeking initial training or ACLS recertification will all benefit from this class. In addition the use of algorithms for pre and post-cardiac arrest management, the course covers:
A review of BLS skills such as bag-valve masks and AED's
Recognizing and treating respiratory and cardiac arrest, symptomatic and non-symptomatic bradycardia/tachycardia
Pharmacology
Stroke and acute coronary syndrome (ACS) management
Team dynamics
ACLS Recertification in Madison, Wisconsin
To maintain active ACLS certification, ACLS renewal classes must be taken every 2 years. Our expert ACLS instructors can provide you with more information on ACLS recertification, as well as details on which of our Madison CPR classes for healthcare providers will best suit your medical career goals.
Back