AHA Hands Only CPR
Milwaukee CPR Training: Uncertified, Hands-Only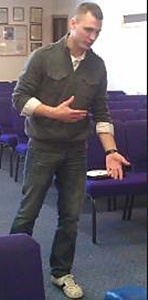 Hands-only CPR is a limited response to situations that would be best addressed by a person with the American Heart Association CPR certification. Our Milwaukee CPR training classes are the BEST choice for preparing yourself to save a friend or loved one in an emergency, but this American Heart Association hands-only CPR Training Video could help in the interim.
This video is meant to emphasize the importance of doing SOMETHING instead of NOTHING if an untrained bystander witnesses someone go down or no barrier device is on hand. It's easy: call 911, hands in the middle of the chest, and push hard and fast till trained responders arrive.
Self-train before your Wisconsin CPR Certification Class
Taking a CPR class is the best way to learn how to properly perform CPR, but not everyone has access to classes. Hands-only CPR is a great option for untrained bystanders because there is no need to worry whether you are doing it right or wrong. First, call 911, then place your hands in the middle of the chest and repeatedly push down hard and fast.
You could save a life!
View our full course calendar for more information about scheduled CPR Classes in Milwaukee. On site courses for groups 5 or more are available. Or, contact Healthline First Aid today for Milwaukee CPR Classes.
Contact Us