CPR Matters!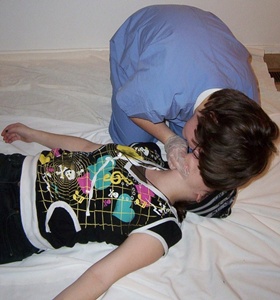 So often, people put off or underestimate the importance of learning CPR. Healthline First Aid recently held a class at Alliance Bible Church in Mequon Wi. Several days later, we received this email from one of the class participants. Then ask yourself, "When will I need to help someone or when will someone need to help me"? In the words of Libby, GET TRAINED!
Libby's story - "The day after taking CPR and AED training from Andrew, I was exercising at Snap Fitness when I collapsed on the treadmill. A trainer was standing next to me, and because I was unresponsive and possibly having a seizure, he immediately moved me away from equipment that I might hurt myself on, and 911 was called. I did not respond to stimuli, and he and another individual began CPR until the paramedics arrived. I finally woke up after the paramedics had put an IV in. I was then taken to Froedert by ambulance. Luckily, I was okay. The first aid and CPR training of those around me when I collapsed made all the difference. They took right over and did not wait for paramedics to arrive because they knew what to do. You may think that this could never happen to you or a loved one, but it happened to me on the day after my CPR class!!! What are the chances? I am very thankful that there were trained people around me. This gives me great appreciation for the necessity of many people being CPR and first-aid trained. By the way, I am 23 years old and a very healthy young woman generally, with no history of seizure disorder. If it can happen to me, it can happen to you or someone you love. Get trained!"
Are You Ready to Be A Hero?
View our full course calendar for more information about scheduled CPR Classes in Milwaukee. On site courses for groups 5 or more are available. Or, contact Healthline First Aid today for Milwaukee CPR Classes.
Contact Us