Wisconsin CPR Certification for High Schools
Milwaukee CPR Training Comes to Wisconsin Classrooms
In collaboration with the American Heart Association, Healthline First Aid is proud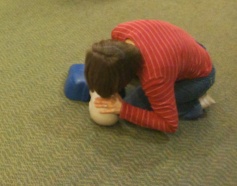 to announce Wisconsin CPR Certification classes designed specifically for high school students. Our Milwaukee CPR instructors will travel on-site to any public, private or charter high school to provide life-saving CPR instruction specially designed around accommodating varying high school class sizes and schedules. Healthline First Aid teaches CPR and emergency response to Wisconsin high school students with an incredible degree of efficiency. Our effective teaching methods enable students to remember and draw upon their CPR training in times of peril.
Wisconsin CPR Training For High School Students Required By Law
In passing 2009 Wisconsin Act 273, the legislature has required all public, private, and charter high schools to offer instruction in Automated External Defibrillators (AED) as well as both traditional and hands-only CPR in Wisconsin. The act took effect in the 2011-2012 school year, and seeks to better educate Wisconsinites on the latest life-saving CPR techniques. Healthline First Aid Wisconsin CPR classes are perfectly suited to these legal specifications.
Why Wisconsin CPR Classes Aren't Just for Paramedics
A very small percentage of high school students will wind up with a career related to emergency medical services. Public education could be the only time their only chance to learn proven, life-saving resuscitation techniques. By ensuring high school students receive Wisconsin CPR certification, the legislature seeks to create a populace who can respond more effectively to emergencies. Healthline First Aid offers personalized CPR training to both professionals and amateurs. Our CPR classes are tailored to the experience level of the students.
Changes to CPR Training Milwaukee Health Teachers Should Know
2009 Wisconsin Act 273 calls for training in both cardiopulmonary resuscitation and the newly emphasized cardio cerebral resuscitation. Healthline First Aid's Wisconsin CPR classes teach both of these life-saving measures which endorsed by the American Heart Association.
Wisconsin CPR Training Lifesaver Tip: CPR significantly increases the survival odds of a person who has just undergone a heart attack, and the first minute is the most important. The faster a first responder takes action, the more likely the victim will be revived.
Outdated methods of CPR training place a higher importance on "airway" and "breathing." Years of modern study have concluded "circulation" to be far more vital to survival during the initial seconds following a heart failure. In 2010, the American Heart Association modified one of the central tenants of CPR training when ABC changed to CAB. The AHA has even begun to advocate compression only, or "cardio cerebral," resuscitation for less trained bystanders, citing the supreme importance of keeping oxygen flowing to the brain and other vital organs. Hands only CPR also provides the added benefit of removing the potential reluctance a young person might have in performing "mouth to mouth."
Milwaukee CPR Instructors for Public and Private School Classrooms
Healthline First Aid will dispatch a team of certified Wisconsin CPR instructors to accommodate any class schedule or classroom size. Our CPR instructors arrive ready with the knowledge, equipment and experience to effectively convey life-saving education into the minds of young adults.
To set up Heartsaver, AED, and CPR certification courses in Wisconsin, contact Healthline First Aid's CPR training instructors online or call 414-282-4532.
Are You Ready to Be A Hero?
View our full course calendar for more information about scheduled CPR Classes in Milwaukee. On site courses for groups 5 or more are available. Or, contact Healthline First Aid today for Milwaukee CPR Classes.
Contact Us