Sheriff Performs Infant CPR in Milwaukee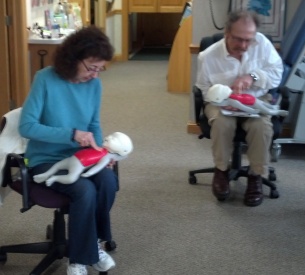 Friends and clients of Healthline First Aid have heard time and time again how important taking a CPR class can be. No one ever knows when the time will come that the skills they learned will need to be used. Something more intimidating than having to use CPR in general is the thought of using the skills learned in an infant CPR class.
In this video, a Milwaukee Country Sheriff performs infant CPR in Milwaukee on the hood of his car, and saves the infant's life. It should be noted that the Sheriff in the video was not a client of Healthline First Aid, but the video shows how important learning CPR really is. Healthline First Aid works hard to help our clients feel this same confidence in the event they need to save a life!
Are You Ready to Be A Hero?
View our full course calendar for more information about scheduled CPR Classes in Milwaukee. On site courses for groups 5 or more are available. Or, contact Healthline First Aid today for Milwaukee CPR Classes.
Contact Us