Milwaukee CPR Training for Businesses, Universities, and Healthcare Clinics
CPR training will prepare you, your employees, or your students for the best response in the event of a heart attack. Heart disease causes about a quarter of all American deaths annually, yet the average citizen's awareness and training are incredibly lacking.
CPR classes offer a greater potential to save human life than almost any other endeavor. Taking initiative and spreading heart disease awareness and CPR training to the people connected to you offers you the best opportunity to save a life and be a hero.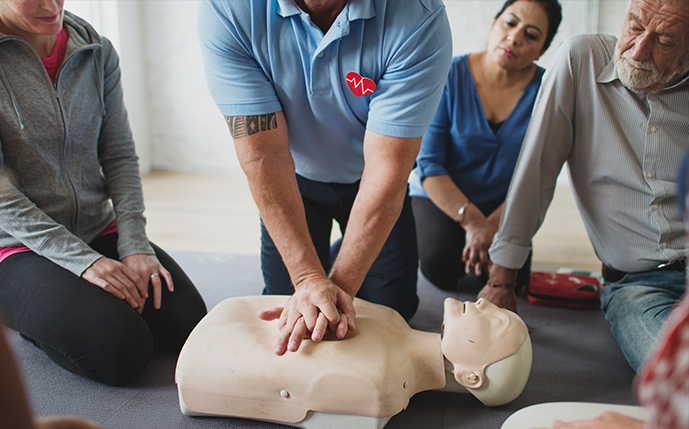 Milwaukee CPR Classes for Schools
Healthline First Aid offers AHA-certified CPR courses for public and private high schools, universities, charter schools, and more throughout Wisconsin, including Milwaukee, Waukesha and Racine. Your students don't have to be studying nursing, radiology, or physical therapy to benefit. Health instructors, students, and involved parents alike will appreciate the personal, fun training from HLFirstAid. Get certified and prepare yourself to save a life with effective first responder techniques made easy.
Groups and organizations of all sizes can benefit from engaging and interesting CPR training. Our instructors will prepare your employees, whether factory or office staff, how to react in the event of a cardiopulmonary emergency. Here are a couple of the common First Aid or CPR courses for Wisconsin businesses:
Heartsaver First Aid CPR AED (can add First Aid)
Heartsaver Bloodborne Pathogens

Corporate Milwaukee CPR Classes
Groups and organizations of all sizes can benefit from CPR training. Our first-response team will prepare your employees, factory, or office staff how to react in the event of a cardiopulmonary emergency.

Milwaukee CPR Classes for Healthcare Facilities
Our CPR certification for healthcare practitioners and employees offers preparedness for situations arising in and outside of hospitals, nursing homes, outpatient facilities, chiropractic offices, and more. You'll be ready to recognize and react to life-threatening emergencies. Healthline First Aid believes that it is important to have consistent instruction, taught in a fun and easy way while still holding you to the standards set by the American Heart Association.

Milwaukee CPR Course List:
Heartsaver First Aid
Heartsaver Bloodborne Pathogens
Automated External Defibrillator Sales/AED Service
Please contact Healthline First Aid for information on AED sales and service. Our professional first aid experts will help you acquire and maintain both the equipment and training necessary to help you save a life.
Are You Ready to Be A Hero?
View our full course calendar for more information about scheduled CPR Classes in Milwaukee. On site courses for groups 5 or more are available. Or, contact Healthline First Aid today for Milwaukee CPR Classes.
Contact Us