CPR Instruction in Spanish
Milwaukee CPR Training in Spanish
Recognizing Milwaukee's growing Hispanic population, Healthline First Aid has added First Aid, CPR, and AED certification classes in Spanish. Each of our first aid classes will be taught by a Spanish speaking instructor upon request.
Milwaukee CPR, AID, and First Aid classes are now available in Spanish.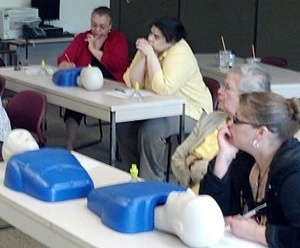 By providing CPR training in Wisconsin with bilingual instructors, Healthline First Aid promotes safer workplaces, safer communities, and safer families. To schedule your own Spanish Milwaukee CPR classes, contact our experienced CPR training instructors today.
Clases de Reanimación Cardiopulmonar en Milwaukee:
Reconociendo la creciente población hispana de Milwaukee, Healthline primeros auxilios ha añadido DEA clases y certificación de CPR de Wisconsin en Español. Cada una de nuestras clases de primeros auxilios será impartida por un instructor de hablando española a petición.
Clases de CPR de Milwaukee, ayuda y primeros auxilios están ahora disponibles en Español.
Mediante la formación de CPR en Wisconsin con instructores bilingües, Healthline primeros auxilios promueve lugares de trabajo seguros, comunidades más seguras y familias más seguras. Para programar sus propias clases de CPR de Milwaukee Español, comuníquese con nuestros experimentados instructores de entrenamiento de CPR hoy.
Are You Ready to Be A Hero?
View our full course calendar for more information about scheduled CPR Classes in Milwaukee. On site courses for groups 5 or more are available. Or, contact Healthline First Aid today for Milwaukee CPR Classes.
Contact Us