First Aid CPR and AED Training for Professionals
Healthcare Certification Classes in Wisconsin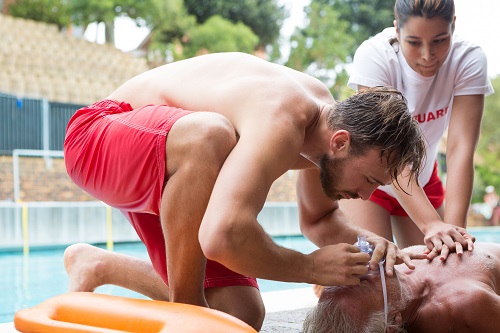 First Aid training is a major benefit for workers across a variety of industries. Training allows workers to stay calm in the event of a medical emergency and provide lifesaving care. In fact, OSHA requires many businesses to have employees with CPR, AED, and First Aid certification.
Professions which usually require some degree of First Aid training include:
Healthcare/medical workers
Childcare employees
Personal fitness trainers
Construction foremen and supervisors
Teachers and coaches
Lifeguards
Learn about why CPR, AED training, and other first aid methods are recommended for these professions. Onsite training from Healthline First Aid is available for groups of 5 or more. Schedule a class at your workplace so your employees can learn lifesaving skills.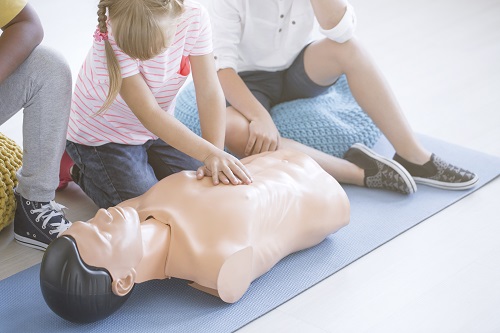 First Aid Training for Healthcare/Medical Workers

Medical workers at every level need basic First Aid training. We offer advanced training options for healthcare providers:

Recertification is required for CPR every one to two years. Our CPR recertification training course covers everything you need to update your skills.

First Aid Training for Childcare Employees

Young children are at high risk for accidental injury. A daycare or preschool worker with First Aid training can stay calm as they help the child feel better. Many childcare facilities even require workers to have basic First Aid certification.

Choking is a very big concern for small children. Infant CPR training from Healthline will prepare you for clearing airways and restoring normal breathing patterns in a child.

Babysitters with First Aid training are in high demand since they reassure parents their child will be well-cared for even in an emergency. Sign up for an upcoming Healthline First Aid course to get certified.

First Aid Training for Personal Fitness Trainers

Personal fitness trainers work with individuals of all health levels. Strenuous workouts can cause difficulty breathing or heart attacks. AED certification training from Healthline will show you how to operate a defibrillator which can save a life of a heart attack victim.

First Aid Training for Construction Foremen and Supervisors

Constructions is one of the most dangerous industries in Wisconsin. As such, OSHA requires foremen, supervisors, and other workers to have a certain level of First Aid training. Basic medical skills can be the difference between an on-the-job fatality and a close call.

First Aid Training for Teachers and Coaches

Teachers are entrusted with the wellbeing of the children in their care. While most schools have a medically trained nurse on staff, they may not always be available in an emergency. First Aid training from Healthline gives teachers the lifesaving skills they need to protect their students.

Coaches and team staff should have more advanced First Aid training. Accidental injuries are more likely to occur during sporting events and coaches need to be prepared.

First Aid Training for Lifeguards

Lifeguards have to meet many strict requirements to meet certification standards. They have to be able to swim while carrying weight, without taking breaks, and have First Aid training.

Our First Aid courses are also ideal for:

Swim instructors
Pool monitors
Managers

If you have 5 or more employees at your pool, schedule an onsite First Aid training course with Healthline.